Ipalook Elementary, Barrow, Alaska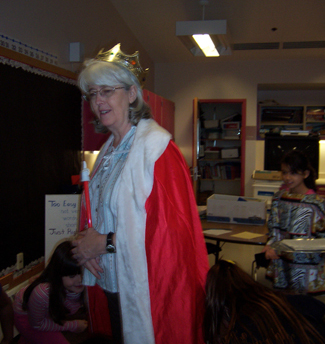 Coach Becky Crabtree did a book presentation at Ipalook Elementary in Barrow September 11, 2009 for two groups of 3rd graders.  Ms. Sharon Engling set up the "Meet an Author" event with the theme "Royal Reader" and had a crew of students who dressed me in a cape and crown, gave me a wand and accompanied me down a red carpet to the front of the room.
The town crier introduced as being from the Kingdom of Atqasuk and I was attended by a guard, a dragon and a magician.  The students played their roles well and were very attentive!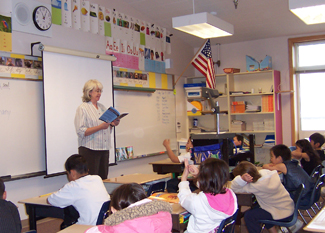 The classes of Ms. Anna DelaRosa and Ms. Misty Brown hosted the next gathering where I also read part of an essay, discussed writing and answered lots of questions from students eager to know more.